Benefits Of GST Software –  Are you tired of taxes and looking for the benefits of GST software which can give the maximum benefits? If the answer is yes, you don't have to search further as we have the perfect solution for your problem. Now you can calculate all the taxes by your own with the help of GST software which is available for you manage your account.
If we talk about GST, we all know it affected all the sectors directly or indirectly in a numerous way. That has been one of the biggest amendment done in the tax system of India. If your business is also affected, we suggest you use the GST software which will help you to manage your business and to get an accurate result without any confusion.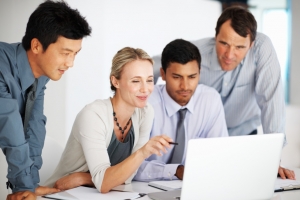 What is GST?
GST stands for Good and services tax. It is a value added tax which is levied on most of the good and services sold for the domestic consumption. The GST has been paid by the consumers but at the same time, it is remitted to the government by the businesses selling the good and services. In other words, GST is the money which is generated by the consumers and revenue for the government.
Why Should You Choose GST Software?
In the present time, most of the business companies and organization whether it is big, small or medium sized are in the constant need to be in the first position online. We suggest you choose GST software because it is the software which can calculate the GST but also calculate accounts, Ledger, inventories, finance as well. The different GST software which is available for you are Traders, distributors, etc.
If you are also running any business organization, we suggest you use GST software. This software can help you to run your business with ease and in a better way. Just like other businesses, all service enterprises need to submit their GST revenues at the end or month or quarterly. So it is important for business financial staff to use the GST software.
Benefits of GST Software
There are many benefits of using GST software. Many people are disappointed because of the change which has been taken place in GST (Good and services tax) this year. Many big companies and business organizations use this GST software to avail the benefits. Some of the benefits are mentioned below
The GST (goods and services software) helps to make the business owner aware about the applicable tax rate they need to pay, to whom and where.
Because of GST software, small and medium sized companies can have now access to pre-design the programs with an extra ordinary low cost.
The GST software is recognized for the extra effort and care that has been taken in its design and development.
The GST software systems also find major advantages such as accuracy, speed, cost savings and it also provides up-to-date information.
By using GST software enable each enterprise to focus on what they do best for their customers by providing good service.
We all know, how difficult it is to do the calculation work on paper, and now with the help of GST software, we can easily rely on software.
If you are the doing the business of exporting goods and services than with GST software you can enjoy more production and can export more goods without any heavy charges.
Conclusion
If you are looking for the software which can manage all your account and give you all the benefits without creating any type of trouble, then this is the right place. Now you can use GST software to run your business in a better way. Till now, if you are using manual calculations then you need to switch now. Manual calculations can create errors for you.