Best accounting software for small sized business – Are you in the search for the best accounting software for small sized business in India & other countries of world? If yes, then this is the perfect place to be in. Small sized business is no exception when it comes to higher work load and managing complex accounts. With the use of accounting software, you can ease your work of handling and manage your business. Here we will let you know some of the most effective accounting software for small businesses. 
There are thousands of accounting software available to choose from. But you must prefer the one that suits perfectly to your business and is effective by all means. Most of the software damage the details and the management instead of controlling it. Therefore, you must choose the one that fulfills your requirements of the business.
List of top accounting software for small sized businesses in India
Small size business requires the same patience and effort as the giant company requires to maintain the accounts. You might have come across a variety of the different software specially designed to manage the small business but not all of them requires your attention and time investments. Below mentioned are some of the top accounting software for the small businesses in the country.
Advanta Witty Turbo (Best Accounting software for small business)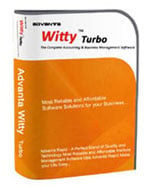 Advanta witty turbo is one of the best solutions to manage your accounts of business by Advanta Innovations. This software is not only reliable but also is affordable. There are so many reasons on why you should ponder on buying this software over any other in the market. Below mentioned are few features of Advanta Witty Turbo that will definitely convince you to use this right away.
Accounting.
Inventory.
Bill printing
VAT, GST, Sales Tax, Service Tax, e-TDS, e-Filing, Excise ETC.
Job-work, Sale Purchase Order/Quotations.
Barcode label printing and much more to consider.
FreshBooks
FreshBooks is yet another important and beneficial software to manage any type of small sized business in India. This software has several features like it is polished, intuitive website that supports invoices and estimates, expenses, projects, time -tracking and what not. You can easily rely on this software for the best results out of your small business. This is also inexpensive, an online-only solution that does a very good job of invoicing and basic bookkeeping and is ideal for small businesses and independent contractors.
Sage One
Sage One is the perfect fit for the entrepreneurs, startups and small size business by every aspect. It is affordable, reliable and completely manages your accounts to the most extent. It is specially designed for the small businesses that require fast and accurate tracking of their business and accounts. Below mentioned are some of the best features of this software that will compel you to use this right away.
It provide proper customers and vendors management.
Task management.
Project tracking.
Income and expense tracking.
Multiple user support.
Zoho Books
Zoho Books is another subscription-based online accounting application software that is very popular with small businesses for the obvious reasons. It tops all the features and requirements that are required to manage your accounts. The invoicing, estimating, expense tracking, time tracking, and bill payment features make it ideal for all the small and even medium sized business. You can definitely trust the facilities and features it has to provide to your business. This software come in 3 types i.e. basic, advanced and professional. All of these three types are equally beneficial and has unique features to suit your business.
Xero Accounting software
Xero is a cloud-based accounting solution that is specially designed to fit the small sized business. It is a comprehensive accounting software that is targeted towards small to medium-sized businesses. People or more specifically the customers of Xero can easily vouch for the superiority of this software. It has a wealth of the unique and effective features that take care of all the small to large details of your business.
Conclusion
So, if you were in the search for the best software for accounts for your small sized business then I hope this might be of some use to you. Aforementioned are the best and the most efficient software that millions of people use for their small scale business. Therefore, go ahead and choose any one of this software to get the best results and proper management of your business.