Sending SMS to mobile phone from the internet is one of the most affordable and reliable services . SMS is the fastest, easiest and cheapest way to connect to your students, parents, teachers and other employees. It is also very easy and fast to send SMS.
Advanta Rapid ERP presents the facility to send SMS from within the school/college/institute software. With a single button click, you can send any information to hundreds or thousands of mobile numbers.
You can easily search for any student and software will automatically send required SMS to mobile numbers entered in student's master data. Also, you can send the same SMS to multiple students, or even a whole class by a single click of the mouse.
This feature makes it really easy and affordable to provide information to students and parents. You can easily inform the parents about activities of their children. You can also instantly provide them the information about their child's attendance, activities, exam results and other activities.
How to send SMS from software: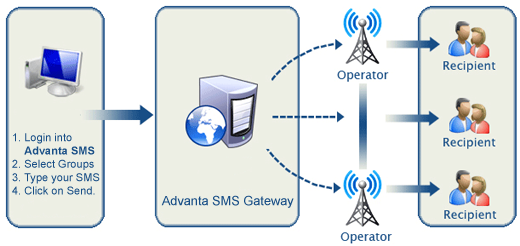 Salient Features:
•    Enterprise grade SMS solutions    •    SMS with your Institute Name
•    Multiple SMS gateways    •    Low cost – online SMS
•    High Capacity – Bulk SMS    •    Instant Delivery
•    No bulk SMS software required    •    Simple to Use-Easy Functionality
•    No Hidden, Monthly, Setup Costs    •    All India same rate
•    Easy Access – Any part of world    •    No extra cost on festivals
•    Outstanding Support    •    99.99% uptime
4 Easy Steps to Start Sending SMS, now:
1.    Choose a plan according to your requirements.
2.    On receipt of funds, we will create an online Advanta-SMS account for you.
3.    We will send the Login details to your mobile or email.
4.    You can login into your software and start sending SMS.
Please contact the sales team for more details.