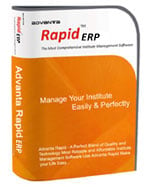 Have you been thinking about re-defining your school/college and its different functions? If yes, then implementing precise School/College Management System from Advanta Innovations is the sole solution. We know that you want the parents of your students to have easy access to different records of their children so that they get to know how their child is performing at school. Advanta Rapid is perfect for this. School Management Software or College Management System is an application which helps you manage the entire school data easily in an organized way.
How a Good School/College Management System helps
Acting as an interactive platform, School/College Management System helps the different entities of your school like – staff, parents, finance department, administrators, teachers, and students to come forward and interact with each other. Advanta Innovations provides an appropriate school software application which fulfills the needs of your school in an economical way. We offer our software in different parts of the world with packages which are simply speechless. In the environment of hyper-competition, possessing and implementing the right kind of software which is unique and appealing is a must to reach your needs. Selecting the right school management system can take your school to great heights, disseminating quality education to the students.
Gain a competitive edge over other schools/colleges with Advanta Rapid ERP!
You can trust Advanta Rapid ERP for delivering very effective school management system with 28 modules and different packages. We provide any kind of school management software that you want, by customizing the same. The software is designed by a team of experts that is experienced and trained in designing a solution which helps you in managing and running your school. Advanta Rapid is user-friendly, created with a right mix of modules which offer linguistic appeal to be used. Some modules covered by Advanta Innovations are:
Bulk SMS facility
Event management
Recruitment management
External device integration
User management
Discipline and hostel
School Website/College Website/Internet reporting
And the list goes on…
Why Advanta Rapid ERP
Advanta Rapid ERP is affordable, reliable, and economical software which is a big move towards a successful and acknowledged school in the whole world. If you have difficulty in taking your school-related decisions, then implementing this software will solve your problems. This software helps you take instant and effective decisions for your school.
Need of a school/college software
It is but natural that managing your school is not a child's play. There are many students and double the number of parents to whom you are accountable. Apart from these, there are shareholders, teachers, staff, the administration that needs to be looked after. If you think of managing the data of your school manually, then be ready to face the challenges. Redundancy, delay in work, errors are some common problems. To establish an impeccable and unmatched reputation, you need implementing school management system which is simply unparalleled.
Conclusion: Use a good school/college software
Advanta Innovations offers award winning and powerful School/College Management System which is integrated with advanced technology. We promise our software will take care of all your school needs.
Please contact our friendly team to get more information or to purchase the school software or college software for your institute.