Software and Services
Solutions for Schools, Colleges & Institutes
Solutions for Small and Medium Business
Other Solutions & Services
Following is the more information on Software & Services by Advanta Innovations:
1. Solutions & Services for Schools, Colleges & Institutes
Vast experience of Advanta Innovations in business accounting and management solutions gives us a step ahead in educational institute management solutions. Our solutions are suitable to vast range of schools, play-way schools, Government & Private schools, K12 Schools, colleges, degree & diploma colleges, nursing & B.Ed. colleges, educational institutes, training centers, computer centers, learning centers etc.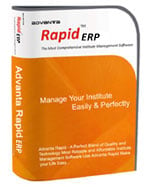 Advanta Rapid ERP is the only one software that you need to manage all aspects of your school. This is a very Reliable, Affordable & User-friendly school software with 28 modules, which helps you to best manage each and every department of your school.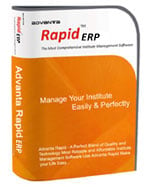 One of the most Reliable, Affordable & User-friendly college software with 28 modules, which helps you to best manage each and every department of your college. Advanta Rapid ERP bring all information to your fingertips to help you make quick decisions. 
2. Solutions & Services for Small and Medium Business
Advanta Innovations has a vast experience in designing software solutions for businesses. Today our solutions are suitable to vast range of small and medium businesses.
Following are our main products for general businesses: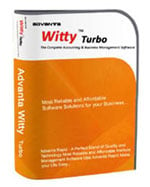 Reliable, Affordable & User-friendly Business Accounting Software with inventory, invoice/bill printing, VAT, GST, Service Tax, e-TDS, e-Filing, Excise, Manufacturing/Production/Job-work Management, Sale/Purchase Orders & Quotations, Barcode Labels Printing, and many more.
3. Other Solutions & Services
In its on-going effort to provide value-added services to its clients and partners, Advanta Innovations is delighted to offer a wide range of valuable services carefully designed and selected to meet your needs. Our solutions are affordable and reliable. The main advantage of our program is that all of your technology needs are served under single roof.
Business Management Solutions and Educational Institute Solutions have always been our key strength. We have equally focused in the areas of Web Design, Web Promotion, Domain Registration, Web hosting, Bulk SMS Gateway, and Customized Software Development.
Advanta Innovations is a website design company in India that offers affordable Website Design, Website Development, Flash Web Design, Web Application Development. Our website design company develops customized web sites to meet your goals and business needs.
Our experience and balanced approach to design ensures that your website will not only look great, but most importantly, works hard for your business.
Kindly provide us with your requirements for website design development, flash websites for a customized quote.
At Advanta Innovations we deal with school college website design, development and hosting. The school/college website is the first place prospective parents or visitors go before they actually visit the school itself. Whether you want to create a new website from scratch or need to overhaul your existing school website then we have a solution to you.
A School's website is an effective tool for communication within the staff/students as well as interaction with the parents and other schools worldwide. We understand that many schools and educational institutes don't need a large website. What they need is a web design that works for them and their visitors. Advanta Innovations can provide an effective, feature-rich School website for a reasonable price.