Complete Invoice Software & Billing System
that best fits into your business
Already being trusted by thousands of clients…
Take total control of your business with Advanta Witty Turbo Invoice & Bill Printing Software
Advanta Witty Turbo is a Reliable, Affordable & User-friendly business management software with features like accounting, inventory, bill printing, VAT, GST, Sales Tax, Service Tax, e-TDS, e-Filing, Excise, Job-work, Sale Purchase Order/Quotations, Barcode label printing, and many more…
View All Features  Free Trial
Welcome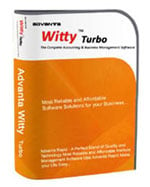 Advanta Witty Turbo is a simple and easy to use Billing Software suitable for all types of businesses. The Bill Printing Software allows you to create all types of invoices as according to your requirements.
Simply enter customer details, product details, pricing, taxes, discounts etc. and your invoice will be automatically generated. The Billing Software is so easy to use that even a layman can use it to Print Invoices without any problem.
The Invoicing Software contains an inbuilt invoice designer. Using this tool, you can design your invoices on your own. Advanta IPS supports DOS/Draft Printing, Windows Printing at all types of laser, ink-jet, desk-jet, dot matrix printers. You can print invoices on any type of papers of any size. You can print invoices on the plain page or pre-printed stationary or on your letterheads using this billing system.
This Invoice Printing Software is specially designed for printing invoices. However, if you are looking for reliable and affordable accounting software with all features.
Need more information on Invoice Software or Bill Printing Software?
Contact us for a free demonstration of Invoice Software. We are 100% sure that you will be impressed by its features, flexibility, and ease of use!!