Easy to Use and Powerful Timetable Generation Software
Automatically generate teachers timetable for your school
Thousands of schools and colleges already use this timetable software!!
Timetable Generation Software

For Schools & Colleges Overview

Timetable Generation is one of the most complicated and time consuming task for every school/ institutions as each class has a unique time table with specified subjects and teachers. This Timetable Software generate teachers time schedule easily and quickly.  This software provides best solution in creation of timetable in a very simple way and avoids time conflicts in adjustments.
Need for
Timetable Generation Software

in Schools and Colleges: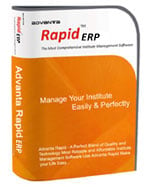 Creation of Timetable is a headache for every institution to work on it. School management system has come up with the module of Time table which helps to run the institution properly, in a smooth way and systematic way. Following are some points that will help you to understand the need for Time table module in School Management software:
You can create different time slots for a timetable as per management need.
Any kind of modification can be done whenever and wherever needed.
It's easy for students to see their timetable of their classes and for staff they can see whole day time schedule.
Easy and automatic creation of timetable and you can export to excel for printing.
This module allows managing between the classes/ or lectures and time set for lunch time.
You can easily create time schedule for exams
Timetable module reduces paperwork and it saves the time of management.
Teachers Timetable generation Module of Advanta Rapid ERP
Advanta Rapid ERP school management system, college management software, and institute management software come with a complete timetable software. With Advanta Rapid ERP, you can easily prepare a timetable for different classes without any effort and on the basis of predefined criteria, the timetable can also be generated automatically.  You can generate time table either on weekly basis or monthly basis. This module can easily set particular lectures for particular day and name of the teacher will also display. This software saves your time, effort and money and clients using this module are well satisfied. Teacher's timetable generation software has the facility to showcase teacher's name on students time table along with.
This software saves your time, effort and money. This software has the facility to showcase teacher's name on students time table along with the subject name. Management usually spends a lot of time to create and schedule each subject for each class and for every staff member and it creates a lot of confusion and make chaos. Advanta Rapid ERP- timetable module can be customized and easily modified whenever required.
9 Salient Features of Timetable Generation Software
Teachers Timetable Generation Software
With timetable module, you can easily define timings for periods of all teachers for every class.
Option to schedule weekly or monthly timetable
This module has the feature that you can create timetable schedule for one week, two weeks and for one month.
On the basis of predefined parameters, option for automatic timetable generation is available.
By predefined parameters, we can define subjects, lecture timings, total no. of lectures taken by one teacher and to which class which subject will be taught that will help in automatic generation of time table.
Any tutorial or sessions being fixed in advance
In case there is any session or seminar being fixed in advance, you can simply update in the timetable and take out the print for the next day.
Easy to allocate teachers work
Timetable generation help to reallocate all the resources related to staff work like how many classes for one academic session, any extra class, etc.
Facility for manual adjustments
In Timetable management, you can easily define teachers adjustments to another class to take up the subject or plays a part of substitution in case of a particular teacher is absent.
Modification of timetable can be done whenever required
If there are any changes to be made in the timetable instantly, there is a provision in Advanta Rapid to do on time.
Avoid conflicts in adjusting timings of teachers
Timetable classifies teachers timing to each lecturer very efficiently and it avoids conflicts while adjusting to any class in case of absenteeism or free periods.
Easily define for extra class, lunch breaks, etc.
You can easily define any time of extra class, break timings, activity/ events schedule timings, etc.
Complete workflow to generate School TimeTable
Step 1: Define timings for all the periods (timings are predefined by the institution according to their availability)
1st Period—– 8:00 a.m. to 8:30 a.m.
2nd Period—- 8:40 a.m. to 9:10 a.m.
3rd Period—- 9:20 a.m. to 9:50 a.m.
Step 2: Allocate work and Generate TimeTable
Teacher wise allocation of work (list of subjects and classes for particular teacher)
Class In charge work allocation
Linking of subjects
Combined multiple classes and teachers lectures
Class wise and teacher wise adjustments/ arranging of  substitution on leave of teacher
Automatically generation of time table
Step 3: Reports generation
You can check time table according to class or teacher wise
Allocation of work class wise and teacher wise
All teachers time table report generation
All classes time table
Any period for any class is free, that can also be checked
Class in-charge list
Details of substitution
Details of combined classes, subjects and teachers.
Need more information on Timetable Software System?
Contact us for a free demonstration of school/college Timetable Software System.